Deep Pleat Filters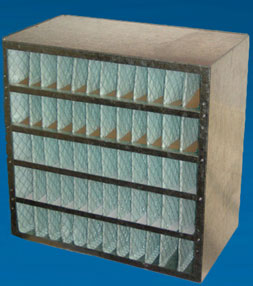 Extended surface air filter for use in commercial or industrial HVAC systems, where medium to high efficiency filtration is needed.
Greater operational lifetime than standard bag filters.
Can be used without pre filter.
Suitable for variable air volume systems.
Operating face velocity ranges are 0 to 375fpm for 150mm deep filters and 0 to 675fpm for 292mm deep filters.
Filters are available in two styles single header model or box type without header
Galvanised steel casings.
Available in grades F5 to F8 in either synthetic or fibreglass medias.
Operating limits 100% RH 90degrees C.
Filter depths 150mm or 292mm.