Carbon Media and Filters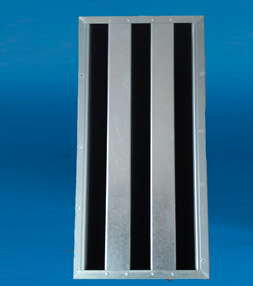 For effective air filtration and removal of gaseous or odorous contamination in hospitals, public indoor areas and workplaces.
Our range of Activated Carbon media products include:
Rigid Carbon Filter
These discarb units are bonded carbon panels contained within a steel casing, the panels are formed into a V shape and sealed thus eliminating any leakage. This product is able to deal with high concentrations of gaseous or odorous contamination. The standard unit comprises of 20mm thick carbon panels, but the unit is available in a heavy duty version with 25mm thick carbon panels.
Carbon Panels
Our activated carbon panels are available as either loose fill or bonded carbon panels 25mm thick supplied in galvanised steel frame.
Carbon Media Rolls
Carbon impregnated medias for bag filter production and pleated panel applications
Cooker Hood Filters
Carbon media combined with polyester filter for domestic cooker hood filtration