HEPA Filters
Steel Framed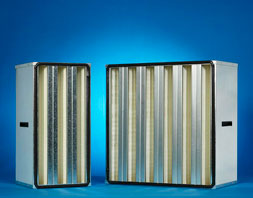 TYCHO™ Hepa filters are available in Grades H10 to H14 these filters are manufactured from high quality minipleated microglass and shaped in a multi V form for optimum pressure drop.
Each filter is individually tested.
Standard 610 x 610 x 292 filter unit utilises 40m2 of filter media.
The filters are available in either an MDF or galvanised steel frame.
Suitable industry applications for these filters are pharmaceuticals, clean rooms, hospitals and asbestos removal.
Continuous neoprene foam gasket.
Airflows of up to 5000m3/hr.
MDF Framed