Eco V Rigid Cassette Filters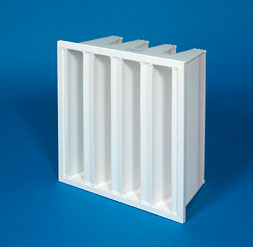 Available in grades F6 through to H10.
Cartridge/cassette type rigid bag filter contains 14m² of 22mm deep pleated synthetic filter media contained in a plastic frame, large surface area giving a low pressure drop provides energy and cost savings.
Can be used as main filter or as pre filter to Hepa or other fine filter.
100% polypropylene filtration layer using the very latest extrusion technology to provide the low clean filter pressure drop.
Low initial resistance. Filter media is 100% hydrophobic.
Suitable for general HVAC applications.
Also available for Gas Turbine filtration, Heavy Duty PVC frame where very high dust loading or exposure to elements is likely occur.
Available in three frame sizes
592mm x 592mm x 292mm (Full size)
592mm x 490mm x 292mm (3/4 size)
592mm x 287mm x 292mm (1/2 size)
Available in 20mm or 25mm frames
Construction:
Polypropylene media with EVA hotmelt spacers. black or white PVC frame available.
Flame retardant to UL Class2