Fume Extraction Filters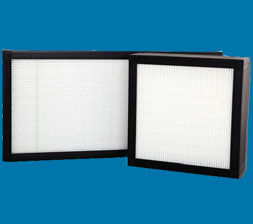 Air Filters designed and manufactured specifically to protect the health and safety of workers and our environment, by removing hazardous particles and gases from the airstream.
Filter classification to EN779 and EN1822 (Hepa)
These filters can be customised to the customers own specific requirement and are available in either an MDF or galvanised steel frame.
Materials that can be utilised in the extraction filters are:
100% blended polypropylene/polyolefin fibres for prefilter grades G3 – G4 , they are also available in Grades F5 –F9 for higher filtration. These fibres are hydrophobic and are therefore suitable for use in moist conditions.
100% polypropylene high durability mini pleat media with EVA separators for F5 – F9 grades, again a hydrophobic media for use in moist atmospheres or high humidity levels.
100% microglass mini pleated media with EVA hotmelt separators for grades F6 –H14 ratings, pleat heights from 16mm to 100mm.
For the gas phase filtration or where there are contaminants such as sulphur oxide we can offer carbon granules or carbon medias which can be incorporated into the filters.
Four frame types are available:
Card Frame
MDF
Polystyrene
Galvanised Steel
Suitable for use in HVAC / Industrial / Food Beverage / Cleanroom /Pharmaceutical